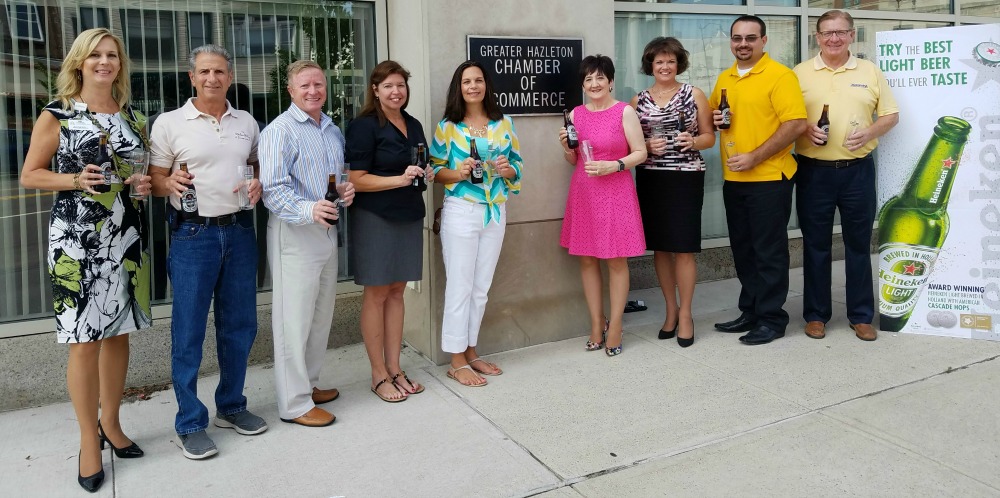 The Community Awareness Committee of the Greater Hazleton of Commerce announces the 9th Annual Tastes of Greater Hazleton. The event will feature a sampling of signature dishes and products from twenty restaurants and businesses from throughout Greater Hazleton.
It is open to the public and will take place on Sunday, October 16th from 12:00 noon to 3:00 pm at the Health & Wellness Center at Hazleton, located at 50 Moisey Drive in Hazle Township. According to Anna Jean Onuschak, committee and event chair, "This has been a sell-out event since its inception, so we really encourage folks to purchase their tickets in advance, since typically we do not have many to sell at the door."
Participating restaurants and businesses include: Booty's Place, Brass Buckle Restaurant, Carmen's Bakery & Deli, Carmen's Country Inn & Gardens, Cinema & Drafthouse, Coffee Service, Edgewood by Sand Springs, Genetti Catering, Giant Food Stores, McDonald's, Sand Springs Country Club, Simply Homebrew,
T. Verrastro Beer Distributor, The Pines Eatery & Spirits, The Valley Country Club, Theodora's Restaurant, Top of the 80's Restaurant and Victoria's Candies.
According to Ann Jean Onuschak, committee and event chair, "We are very pleased to have such a great variety of Hazleton area restaurants and businesses represented at this event. The Chamber is always looking for ways in which to promote the entire Greater Hazleton Area and we feel that this event will certainly assist us in promoting many of the fine establishments that are located right here in Greater Hazleton."
Tickets are $18 in advance and $20 at the door and can be purchased online at hazletonchamber.org (online calendar), at the Greater Hazleton Chamber of Commerce office which is located at 20 West Broad Street in Downtown Hazleton, the Standard Speaker which is located at 21 N. Wyoming Street in Downtown Hazleton or various participating businesses. Tickets allow you to receive a sampling from each of the participating restaurants or businesses and enter you for a chance to win tons of doorprizes.
In addition to the samplings, the committee has coordinated three cooking demonstrations to take place which include presentation by Brass Buckle Restaurant, Sand Springs Country Club and Top of the 80's Restaurant. Each will present a cooking demonstration and all attendees will be invited to sample each of their dishes once completed.
Sponsors for this event include: Luzerne County Visitors Bureau, The Kitchen Gallery & Design Center Inc., CTC Manufacturing, Sam's Club, WYLN TV 35, SamSon Productions, Standard Speaker, Panorama Community Magazine, Poder Latino, El Mensajero, T. Verrastro Beer Distributor, Lehigh Valley Hospital Network and NEPA Tent Rentals.
All proceeds from this event will benefit community projects coordinated by the Greater Hazleton Chamber of Commerce.
For more information on the event contact the Chamber office, at 20 W. Broad Street in downtown Hazleton, call 455-1509, email or visit www.hazletonchamber.org.
EVENT SPONSORS PICTURED IN PHOTO:
Sponsors pictured in photo from left: Lisa Marie Halecky, Lehigh Valley Hospital – Hazleton; Mark Matriccino, The Kitchen Gallery & Design Center; Pat Verrastro, T. Verrastro Beer Distributor; Denise Sellers, Standard Speaker; Kelly Valovich, SSPTV/Sam-Son Productions; Anna Jean Onuschak, Chamber Community Awareness Committee Chair; Donna Barna, Chamber Chair of the Board; Gary Perna, WYLN TV 35 and Larry Colllum, Panorama Community Magazine. Missing from the photo are representatives from the Luzerne County Convention & Visitors Bureau; CTC Manufacturing Inc; El Mensajero; Sam's Club; Tent Rentals of NEPA and Poder Latino.