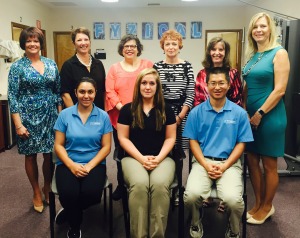 The Greater Hazleton Chamber of Commerce Women's Networking Committee is holding their third in a series of woman's networking luncheon programs for 2016 Tuesday, July 26th from 12 noon to 1 pm at 3 Bobby D's located at 789 N. Locust Street in Hazleton. The event is being sponsored by Fyzical Therapy & Balance Center and it is open for any woman to attend.
The program will begin promptly at 12 noon and will include a buffet style lunch. Our guest speaker is Maria Jacketti, creator of Mountain Laurel Copywriting and she will present "We Are What We Write -- How Professional Writing Can Catalyze Your Business". In this presentation, Maria will explain how businesses can fill their professional writing needs. She will offer an overview of the vast terrain of professional writing and offer some classic tips for navigating the discipline's many genres, such as composing emails, press releases and business plans. Maria is the author of the ebook Double Your Online Marketing Profits with Autoresponders.
Dooprize drawings including, a free lunch for the next program and the opportunity to give an introduction of your business at the event will be drawn. Women are encouraged to bring along promotional items, such as business cards, brochures, giveaways, etc. to display on our business resource table.
Additional bi-monthly luncheon programs for the remainder of the year have been set for Tuesdays, September 27th; and November 29th.
The cost to attend the luncheon program is $18.00 for Chamber members and $25.00 for non Chamber members and the fee will be collected at the door. Proceeds will benefit the Women's Empowerment Grant Fund. Reservations are required by registering online, contacting Julie at the Chamber office at 455-1509, or emailing .
In other Chamber women's networking news, the committee is currently seeking applications for their ninth annual Women's Empowerment Grant. Applications and cover letters are due no later than July 29th. This grant was established to encourage women to pursue training or education that will help them start or advance their career. The target of the grant is women who are: currently working and want to advance in their career through education or training; returning to the workforce; and/or seeking to change their current career path and pursue something more in line with their
interests or passions. The grant is also intended to be available to those who would not necessarily have access to scholarships or grants. For this reason, graduating high school students will not be eligible to apply for the grant. Candidates must reside within the service area of the Greater Hazleton Chamber of Commerce, which includes anyone who resides within the Hazleton Area School District. Applications may be downloaded from the chamber website at www.hazletonchamber.org.
For more details on any women's networking events, as well as all upcoming Chamber and community events, visit the Chamber' online calendar at hazletonchamber.org or contact Leann at the Chamber, 570.455.1509 or .
Women's Networking Committee Members standing from left are: Donna Barna, Billig-Helmes Insurance; De Ann Miller, Hawk Mtn Labs; Maria Jacketti, Mount Laurel Copywriting and event speaker; Anne Frey and Nina Bonus, DBi Services and Lisa Marie Halecky, Lehigh Valley Hospital – Hazleton. Sitting from left from Fyzical Therapy & Balance Center, event sponsor is Amanda Mehalick, Amy Cheesman and Ting Oh, Owner.