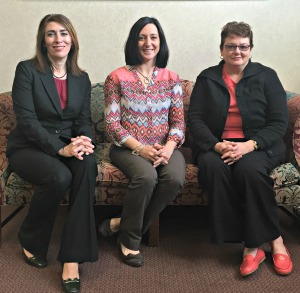 The Greater Hazleton Chamber of Commerce Human Resource Committee has announced their Eleventh Annual Human Resource Seminar. This half day seminar consists of three sessions, two of which are breakout sessions where attendees can choose from two topics going on simultaneously, a keynote speaker, breakfast and lunch. This seminar is geared toward anyone in the human resource field, as well as small to mid-size business owners or anyone else who is interested in learning more about the topics being offered. The seminar is scheduled to take place on Thursday June 2nd on the 4th Floor of the Hazleton Campus of Luzerne County Community College located at 100 W. Broad Street in Downtown Hazleton. The seminar will run from 7:45 am to 1:00 pm.
Session one is an Employment Law Update presented by McNees Wallace & Nurick, LLC; Session two topics include Personnel Policies, Employee Handbooks and the NLRB presented by Rosenn, Jenkins & Greenwald, LLP OR Filling in the Compliance Puzzle: a Benefits Update presented by ChamberChoice; Session three topics include Controlling Workers Comp Claims Through Root Cause Analysis presented by Zee Medical OR Myers-Briggs, (MBTI) Personality Assessment presented by Team Building US.
Following the three breakout sessions the keynote speaker is Samantha A. Neaman. Samantha is the Program & Walk Coordinator for Help STOP the Silence, a suicide prevention and support program for individuals & businesses, based out of the Catholic Social Services - Greater Hazleton office.
This seminar has been pre-approved for 3.75 Recertification credit hours toward the Human Resource Certification Institute (HRCI).
"Our Human Resources Committee has been working very hard to get this eleventh annual seminar underway and we anticipate an excellent turnout," Leann Fallabel, Greater Hazleton Chamber of Commerce VP of Marketing and Coordinator of the Human Resource Committee.
The event is sponsored by Workforce Resources and Luzerne County Community College Hazleton Campus is once again our venue sponsor. A breakfast and lunch sponsor are still needed and table sponsorships are also available. These sponsorships are very affordable and include registration into the seminar. Contact Leann at the Chamber if you are interested in these opportunities.
Cost to attend this seminar is $60.00 for Chamber members and $75.00 for Non-Chamber members. The registration fee includes breakfast and lunch.
For more information, to register for this event or to secure a remaining sponsorship opportunity you may contact Leann Fallabel, VP Marketing Director at the Greater Hazleton Chamber of Commerce at 455-1509, or download a registration form from the Chamber's website or register online at www.hazletonchamber.org.