Greater Hazleton residents have a tremendous sense of community. Ours is a place where people give freely of their time to help each other out and lift our combined spirit.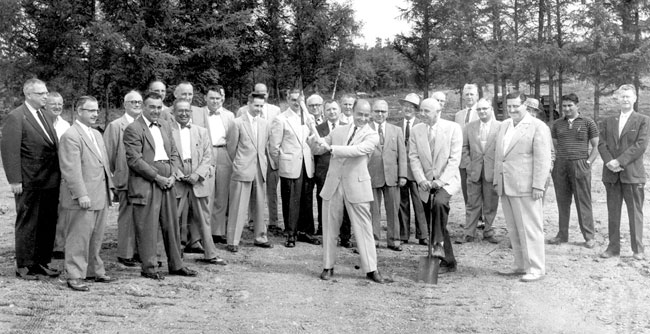 CAN DO's founder, Edgar L. Dessen M.D., breaks ground on Valmont Industrial Park, Hazleton's first industrial park.

We've been able to pull together to get through the tough times, too.
A great example of that is CAN DO, our local economic development agency.
Community-minded individuals founded this volunteer-based organization back in 1956. Anthracite coal, the economic backbone of Greater Hazleton for more than a century, was failing. Unemployment reached 23 percent.
---
We knew we had to do something.
So, we did.
---
A group of business and civic leaders banded together through the Greater Hazleton Chamber of Commerce and led community-wide fund drives. People who had little money gave what they could. Together, Greater Hazleton raised enough money to buy 500 acres of land, build a speculative shell building, and attract a company to our area.
Other companies soon followed. To meet the demand, CAN DO developed other parks and other properties throughout the area. Over the last 50 years, CAN DO has been involved in more than 275 projects, and has left an indelible mark on the community and its future.
Today, Greater Hazleton hosts more than 160 industries and industry-related businesses, including manufacturing firms, warehouse and distribution centers, customer service call centers, and back-office operations. Many of those companies operate from one of CAN DO's three industrial parks (Humboldt, Valmont, and McAdoo) or the CAN DO Corporate Center, a business park located along Interstate 80. All are within an eight-mile radius of downtown Hazleton. These facilities, located in five local municipalities, have made a major impact on municipal tax revenue and have become the cornerstone for Hazleton's employment base.
Scores of retail establishments and a solid and growing base of service and commercial businesses round out Greater Hazleton's economic base. These are located throughout the city of Hazleton and other municipalities in the region. Downtown Hazleton remains the center of local banking and professional offices.
The Chamber of Commerce and CAN DO work together to help new or expanding businesses find a home in Greater Hazleton.
The area's work force is known far and wide for its ambition and dedication. We have a highly developed retail, industrial and commercial infrastructure; numerous state, county, and local financial incentives, and an ideal location virtually in the center of the major Northeast megalopolis.