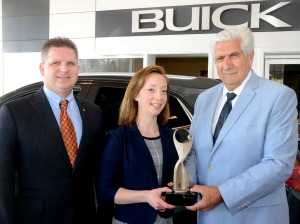 Carla Marie Thaller of the Hamister Group, LLC has been selected as the recipient of the 2017 Greater Hazleton Chamber of Commerce Athena Award, sponsored by Berger Family Dealerships.
Carla is the Regional Director Operations, Hotels for the Hamister Group that operations three premier hotels in our area including; Residence Inn by Marriott, Fairfield Inn & Suites and Hampton Inn. She has an award winning hospitality career for over 15 years in positions with impact in the areas of administation, sales, customer service, hotel operations and facilities management.
Ms. Thaller started in her career as a front desk person while she was a full time student at King's College. She graduated from King's with a bachelor degree in Accounting and quickly advanced to supervisor and then manager for mutiple properties including Residence Inn by Marriott, Hampton Inn and Fairfield Inn & Suites.
Carla coordinated the opening of the area's newest premier hotel, Residence Inn by Marriott . She dealt with general contractors on the project to fulling staffing and training the hotels staff. The 92 room hotels receive the 2009 Chairman's award for the Residence Brand. Her successful leadership style continued to make an impact and in both 2014 and 2016 received national recognition for service and overall property experience. Carla's keen eye and hospitality experience assisted in the recent million dollar plus renovations at the Hampton Inn. She has been instrumental in the advancement of her staff in their professional careers. Carla noted, " I enjoy the challenge of leading three properties, with three different brand standards and dedicated staff. My focus is on a successful customer experience at each property and contributing to the progress of the Greater Hazleton community." Ms. Thaller is excited about the growth and strategic plans of the Hamister Group and using her experiences in her new corporate level responsibilities.
Carla has been a community leader with significant impact in the Greater Hazleton area. She has served as an officer for the Greater Hazleton Chamber of Commerce Board of Directors since 2012, as well as the CAN DO Board of Directors. Ms. Thaller has shared resources and property for two annual events for new chamber members as well as Curbside Appeal awards. Her ideas and knowledge of the community are key skills used in both courting and retaining employers to our region. Carla is an active member of the Hazleton Rotary Club, and has coordinated many events in support of local and State Police. She is active in her church, Lattimer Methodist including duties of a scripture reader for services. Carla is also an active volunteer in her daughter Gabriella's school and dance studio. She and her husband Ketih live in Drums.
The Athena Award, presented each year to a Hazleton area businesswoman "for outstanding professional achievement," will be presented at the 125th Annual Meeting of the Greater Hazleton Chamber of Commerce. The largest event on the annual chamber calendar will take place at Genettti Catering on Thursday, May 18th and will include an exciting new format, showcase of our chamber members in the Business Exposition, entertainment and of course the presentation of the 2017 Athena Award.
Ms. Thaller joins a long list of distinguished women who have won the Athena Award in its thirty one year history. Past winners include: 1986, Lillian Paternoster; 1987, Lorraine Piehota; 1988; Donna Jean Yannuzzi; 1989, Mary Bollman; 1990, Patricia Werner-Savage; 1991, Theresa Raffety; 1992, Martha Herron; 1994, Jo-Ann Yannuzzi; 1996, Ruth Wimsat; 1997, Molly Blasko; 1998, Bettie Sitoski; 1999, Linda Schreiber; 2000, Cathy Gallagher; 2001, Mary Jane Saras; 2002, Atty. Sharon Evans; 2003, Dr. Geraldine Shepperson; 2004, Mary R. Malone; 2005, Atty. Elizabeth Maguschak; 2006, Jennifer Sloot; 2007, Paula Sagan Hahn; 2008, Lonnie Polli; 2009, Terry Moran Bauder, 2010, Dr. Deb Carr; 2011, Nancy Stasko; 2012, Jeannine Lesante Mazurkiwecz; 2013, Ms. Kathleen Benyo; 2014, Donna Palermo; 2015, Elaine Judd; and 2016, Jane Danish . There were no winners in 1993 and 1995.
To make a reservation to attend the Chamber's Annual Meeting, contact the Chamber office at (570) 455-1509 or via email at .
Pictured in the photo from left is EJ Butkiewicz, Jr. Berger Family Dealerships, Athena Award Sponsor; Carla Thaller 2017, Athena Recipient; Earl Berger and Jeff Berger, Berger Family Dealerships, Athena Award Sponsor. Photo courtesy of the Hazleton Standard Speaker