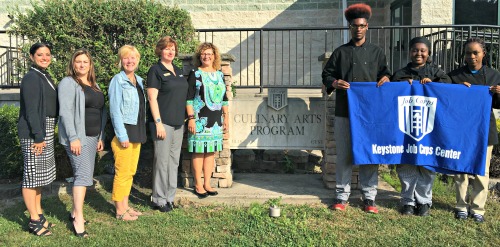 The Greater Hazleton Chamber of Commerce Women's Networking Committee is holding their fifth in a series of woman's networking luncheon programs for 2016, Tuesday, September 27th from 12 noon to 1 pm at the Keystone Job Corps Center in Drums. The event is open for any woman to attend.
The program will begin promptly at 12 noon and will include lunch. Guest speakers will be Cathy Colangelo from Partners In Education. She will discuss how you and your business can partner with area school students and educators and assist in developing your future workforce. She will talk about different programs Partners In Education offers including their annual Career Awareness Day, Project SAGE - Securing a Greener Environment (elementary and middle school gifted students in Hazleton Area and Weatherly); Attendance Matters Program and Job Shadowing opportunities. In addition, a representative from the Keystone Job Corps Center will also discuss their internship program for businesses.
Dooprize drawings including, a free lunch for the next program and the opportunity to give an introduction of your business at the event will be drawn. Women are encouraged to bring along promotional items, such as business cards, brochures, giveaways, etc. to display on our business resource table.
The cost to attend is $18.00 for Chamber members and $25.00 for non Chamber members and the fee will be collected at the door. Proceeds will benefit the Women's Empowerment Grant Fund. Reservations are required by registering online, contacting Julie at the Chamber office at 455-1509, or emailing .
For more details or to register for any women's networking events, as well as all upcoming Chamber and community events, visit the Chamber' online calendar at hazletonchamber.org or contact Leann at the Chamber, 570.455.1509 or .
PICTURED IN THE PHOTO standing from left is: Jennifer Zola and Lori Thuringer, both from the Keystone Job Corps Center, event host and sponsor; Valerie White of the Pregnancy Resource Center of Greater Hazleton and Kathie Oh of Fyzical Therapy & Balance Center, both Chamber women's networking luncheon committee members; Cathy Colangelo, Partners In Education, event speaker; Nadine Kaberamanzi, Ellaysha Boykin and Xavier Holcomb, culinary students at Keystone Job Corps Center.