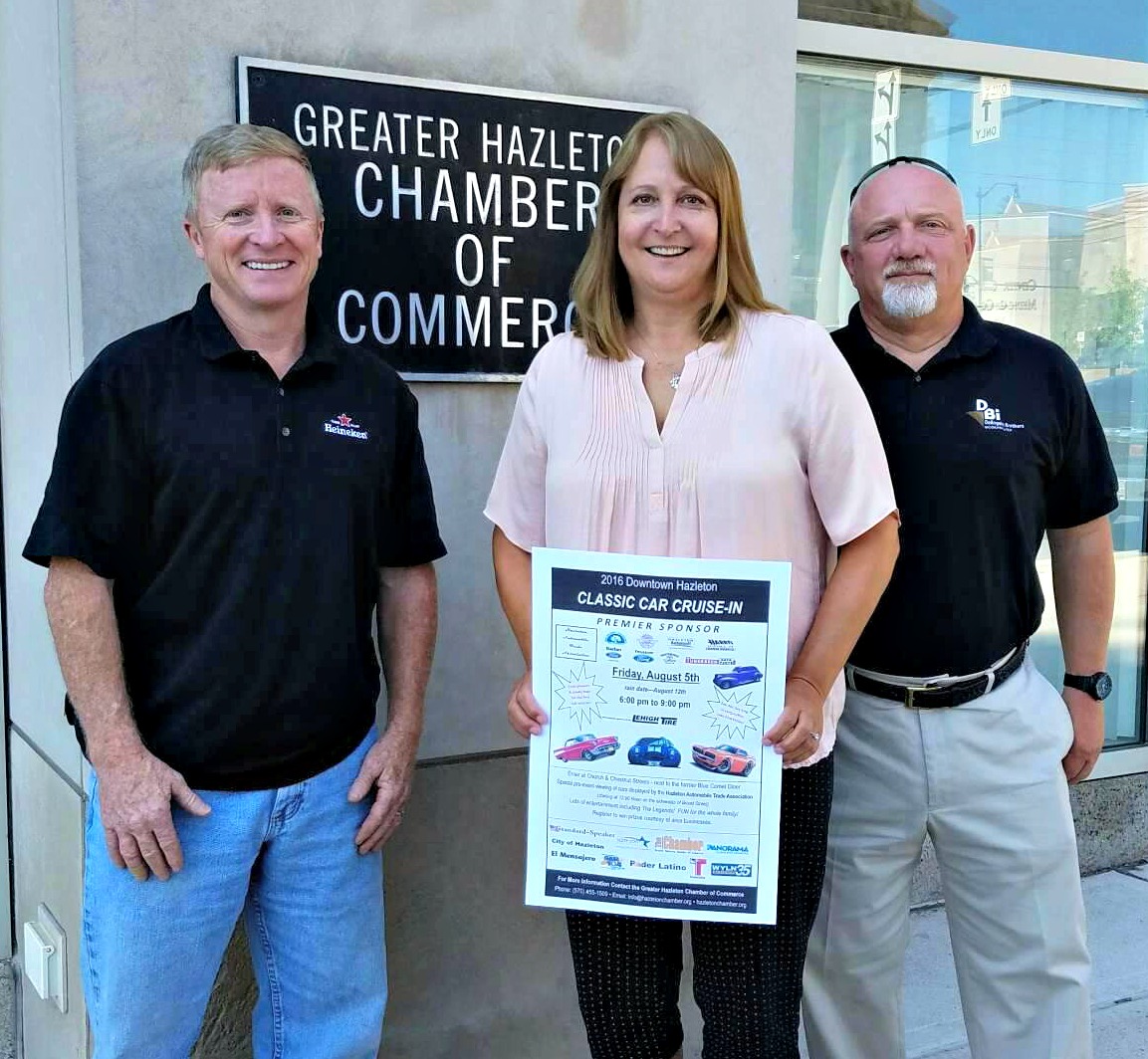 The Downtown Committee of the Greater Hazleton Chamber of Commerce has announced additional sponsors for the 2016 Downtown Hazleton Classic Car Cruise-In which will be held on Friday, August 5th from 6 p.m. to 9 p.m.
Recently, the Chamber highlighted the premier sponsorship that is provided by Hazleton Automobile Trade Association. According to Downtown chairman Bill Spear, "We are extremely grateful for the Hazleton Automobile Trade Association's support and commitment to assist us in highlighting our area through this very visible, family friendly event." Spear continues, "Typically over 200 vehicles participate in the Cruise each year and we expect just as many, if not more, for this year's event."
The cars will enter at Chestnut and Church Streets by the former Blue Comet Diner. They will then proceed to Laurel Street and then to Broad Street and begin parking directly on Broad Street for public viewing until 9:00 p.m. Assisting with parking are the Lackawanna College Police Academy Cadets and students from the Keystone Job Corps Center. Goody bags, filled with donations from downtown businesses, and dash plaques, donated by Lehigh Tire Co. will be presented to the first 100 cars.
Jim Grohol, cruise chairman, wants to remind everyone that the event will actually begin with a new car display beginning at Noon in cooperation with the Hazleton Automobile Trade Association. Members of the Association, Barber Ford, Berger Family Dealerships, Fairway Motors, Feussner Ford, Harry's U Pull It/Kress Auto Parts, Hazleton Automall, Independence Toyota, and Tunnessen's Inc., will display vehicles on the sidewalks of downtown Hazleton beginning at Noon and will remain throughout the evening.
Additional sponsors contributing to this year's event include: DBi Services who will provide electronic signs; Jimmy's Quick Lunch, band sponsor; Standard-Speaker, SSPTV, Panorama Community Magazine, El Mensajero, Poder Latino, GEM 104, Telekaribe, and WYLN TV35, media sponsors; and Hazleton City Streets Department. In addition, businesses have contributed items that will be placed in the goody bags and/or raffle prizes. They include A&A Auto, AutoZone, BB&T, DJ Jim Dino, DBi Services, Fellin's Jewelers, First National Community Bank, Hair of the Dog, Hazle Drugs, The Hershey Company, Humboldt Industrial Supply, Jimmy's Quick Lunch, Lehigh Tire, Metallo's Formal Wear, Standard Speaker, State Representative Tarah Toohil, T Verrastro Beer Distributor, The Shop 2, and Tunnessen's, Inc. A raffle drawing will take place at 8:15 p.m. in front of the Chamber office.
Grohol states that for the ninth year, the Legends Oldies Band will provide live entertainment. The band, co-sponsored by Jimmy's Quick Lunch and the Chamber, will provide entertainment from 6:00 p.m. to 9:00 p.m. In addition DJs Tony Pacelli, Jim Dino and Juan Carlos Abreu from Kalegria.com will also be playing music throughout the evening. First Friday events will provide additional entertainment and activities. Visit downtownhazleton.org for a complete list.
Parking will be free downtown beginning at 5:00 pm at all meters and city lots which includes the parking garage located on Wyoming Street. Officials stress, however, that Broad Street, between Church and Cedar Streets, will be closed to through traffic from 5:00 p.m. to 9:00 p.m. to accommodate the Car Cruise-In. Alternate traffic routes are suggested for the general public. Directional signs will be placed throughout the cruise area. The public is encouraged to attend. Bring your chairs to enjoy the Cruise-In and take advantage of the many businesses that will remain open until 9:00 p.m.
For additional information on the Downtown Hazleton Classic Car Cruise-In, call the Chamber office at 455-1509 or email .
Pictured on photo: Sponsors getting ready for the Downtown Hazleton Classic Car Cruise-In are from left: Pat Verrastro, T Verrastro Beer Distributor, prize sponsor; Linda Mantush, chamber car cruise coordinator; and Bill Patterson, DBi Services, sign and prize sponsor.