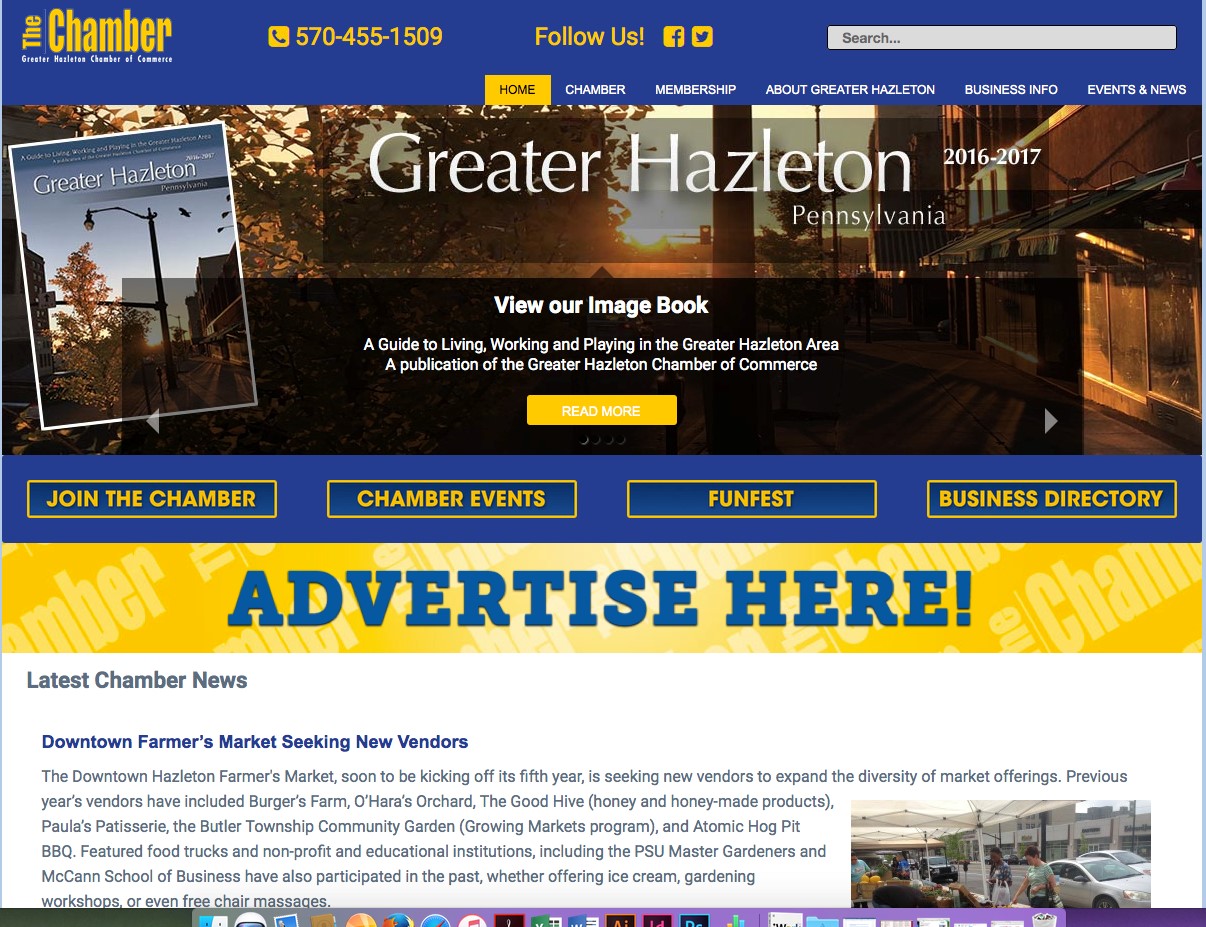 Keeping up the latest in internet technology, the Greater Hazleton Chamber of Commerce recently launched a newly designed website that is responsive for viewing on all of today's devices, including popular tablets and smartphones.
The new site offers members and others updated information about Chamber and community events and a wealth of other information including membership, a directory of Chamber members and an online version of the Chamber's most recent Image Book.
The new website was developed and designed by Precision Design, a Hazleton web design, marketing, advertising and public relations firm that has more than 20 years experience and more than 12 years representing the Greater Hazleton Chamber of Commerce.
The new site showcases a photo slider on the top of the home page that highlights important upcoming events and has a link to the Image Book as well.
The site also features links for more information on becoming a chamber member, a calendar of upcoming chamber events, the Chamber's business directory and the annual Funfest street festival. Visitors can even sign up right on the website to become a Greater Hazleton Chamber of Commerce member.
Chamber members can advertise their business in a rotating advertising slider that appears in a prominent position under these key features.
The website is one of the easiest ways to stay up to date on all the latest news from throughout Greater Hazleton and view the latest edition of the Chamber Connect newsletter. As visitors navigate their way though the site, they'll find all the information they need about the Chamber, the benefits of Chamber membership, Greater Hazleton and local business statistics.
Visitors will discover the Chamber's list of publications, volunteer committees, board of directors and contact information. The membership section includes a list of membership benefits, member-to-member discounts, a spotlight on members and details on the ChamberChoice health insurance and energy programs.
In addition to the Chamber's Image Book, those new to Greater Hazleton can access information on health care; education; housing; arts and cultural; shopping, dining and lodging, and recreation options that are available throughout Northeast Pennsylvania.
The business section provides information about the area's workforce, financing, area demographics and the CAN DO, Inc. business and industrial parks. The events and news section features calendars for chamber and community events and links to the chamber news and Funfest information pages.