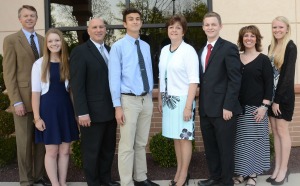 The top academic students from four area schools were honored May 25th as the Greater Hazleton Chamber of Commerce conducted its 42nd annual Academic Achievement Awards Dinner. The event took place at Capriotti's, McAdoo. Lorine Angelo Ogurkis, Esq. was the keynote speaker.
Honored at the dinner were the students selected by their schools as outstanding academic students. Recognized students from Hazleton Area High School are:
Monica Abdelmalek, Michael Bednar, Zachary Bergersen, Mary Joy Campbell, Jillian Corra, Jacob Diaz, Michael Gaizick, Collin Gunsser, Lizmeidy Hernandez, Juliano Ivkovic, Matthew Jones, Nathan Koscuk, Jody Landis, Alec Leonard, Bethany Makuta, Sarah Matarella, Lauren Matuszkiewicz, Ryan Michael, Nicholas Mistiszyn, John Murray, Justin Olander, Isabella Plaza, Celine Podlesney, Amber Puk, Michaela Rubasky, Kyra Schell, Audra Sebo, Kendall Sosar, Karleigh Veglia, and Alexandra Yale; Marian Catholic High School: Mark Buchinsky, Connor Dodson, Henry Hinchey, John Hurst, Maureen Kloap, Deaynna Koskulitz, Kaitlin Kowker, Nicholas Kubishin, Courtney McCall, and Amy McConnell; MMI Preparatory School: Andrew Alday, Mikayla Dove, Brendan Drusda, Alyssa Famalette, Edward Herbener, Victoria Kline, Sarah Moyer, Jay Solgama, Lindsey Walko, and Luke Yamulla; and Weatherly Area High School: Shelby Berger, Dillon Bizarre, Jacquelyn Gillott, Ciana Gomez, Alexis Hartz, Muskan Khatiwala, Meghan Moon, Joshua Naegele, Ashley Nunez, Frank Shor, Andrew Solonoski, and Olivia Winheld.
Representatives from each of the schools were on hand to make the presentations to the students from their respective schools. Each graduate being recognized received a certificate in recognition of their scholastic achievement from the Chamber and also certificates from Congressman Lou Barletta, Senator John Yudichak, State Representative Tarah Toohil, and Hazleton Mayor Jeff Cusat.
The event, made possible through contributions from area businesses, including premier sponsor American Eagle Outfitters is the only program of its kind in Greater Hazleton. Other sponsors include PPL, Penn State Hazleton, The Hershey Company, and Capriotti's. "The Chamber is proud to be able to recognize the students who have excelled in school and have risen to the top of their class. These students serve as the primary examples of the quality of education available locally," said Donna Marie Barna, Chairman of the Chamber's Board of Directors.
Since its inception in 1975, the academic achievement program has honored well over two thousand high school students.
Also recognized at the dinner are the recipients of the Greater Hazleton Area Civic Partnership's Scholastic Award, Desiree Dinko and Kyle Kaschak.
L to R: Charles Seidel, MMI assistant head of school and MMI student, Desiree Dinko; Rocco Petrone, HAHS principal and HAHS student Justin Olander; Sue Ann Gerhard, Marian Catholic director of development and MC student Henry Hinchey; Amanda Zaremba, Weatherly Area HS principal and WAHS student Shelby Berger.