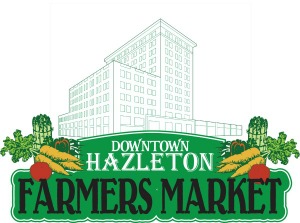 The Downtown Hazleton Farmer's Market, soon to be kicking off its fifth year, is seeking new vendors to expand the diversity of market offerings. Previous year's vendors have included Burger's Farm, O'Hara's Orchard, The Good Hive (honey and honey-made products), Paula's Patisserie, the Butler Township Community Garden (Growing Markets program), and Atomic Hog Pit BBQ. Featured food trucks and non-profit and educational institutions, including the PSU Master Gardeners and McCann School of Business have also participated in the past, whether offering ice cream, gardening workshops, or even free chair massages.
"It would be great if we could add some additional vendors this year," said Chamber President Mary Malone, especially jam, jellies, juices, or even food trucks. Artists and crafters are also welcome." The Chamber of Commerce operates the market with the support of the Downtown Hazleton Alliance for Progress.
This year the market will again take place every Friday from 10:00 AM to 2:00 PM, mid-July through early September. Vendor fees are only $50 for the season, which covers the city's business license, plush whatever costs are associated with obtaining the vendor liability insurance. Vendors selling pre-packaged or ready to eat foods are also responsible for obtaining appropriate licensing/registration from the PA Department of Agriculture. Necessary forms and additional information can be found on the Alliance website

The market has been growing in popularity with local residents, downtown workers, and seniors who are eligible for Senior Farmers' Market Nutrition Program (SFMNP) vouchers. This SFMNP was established in 2002 by the Federal and State Dept. of Agriculture to assist seniors in obtaining fresh, nutritious fruits and vegetables and to increase sales and awareness of the farmers markets in the local area. This year's vouchers will be made available to eligible city seniors at the Hazleton Active Adult Center on June 2nd (24 E. Broad St.) from 9am-3pm.
The Downtown Hazleton Farmer's Market is a registered PA Preferred Program participant. The PA Preferred Program is a state-supported agricultural marketing program. The State Department of Agriculture launched the PA Preferred program to identify and promote food and agricultural products grown, produced, or processed in Pennsylvania because the purchases a product grown or made in Pennsylvania directly supports the state's economy.
Anyone interested in learning more about the market or participating as a vendor should contact the Chamber at 570-455-1509 for more information.