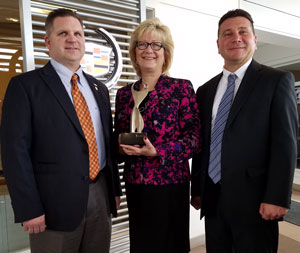 Jane Danish has been selected as the recipient of the 2016 Greater Hazleton Chamber of Commerce Athena Award, sponsored by Berger Family Dealerships.
Jane is the Director of Community Relations and Colleague Recognition at Lehigh Valley Hospital Hazleton. She has a successful healthcare career with over 35 years in positions with impact in the areas of administration, governance, marketing and community relations.
Jane started as a secretary at Nesbitt Memorial hospital and quickly advanced to the Executive Assistant to the President, and was a key part of the transition team in the merger with Wilkes Barre General Hospital. Jane brought her expertise and skills back to her hometown when she joined the team at Greater Hazleton Health Alliance in the spring of 1999.
A career woman for many years, Jane believes in the importance of education and mentoring. During her careers she has successfully mentored four different individuals who reported to her. They have each sought further education, including attaining a master's degree that eventually led to successive promotions in their chosen field. In her hiring decision over the years, she has been willing to take a chance on recent graduates with limited experience and mentor them to strong employees.
In 2014, the merger with Greater Hazleton Health Alliance and Lehigh Valley Hospital was a smooth transition because of the hard work of many including Jane Danish. Her recent achievements include marketing lead on the merger transition team, and successfully implementing the LVHN brand standards at the Hazleton campus, including marketing and media standards, internal and external signage and clothing. Jane has also led the development of the Service Star employee recognition program, revamping of the employee orientation program and a cultural diversity initiative through a partnership with Hazleton Integration Project.
Jane has a significant impact in the area of community awareness. She is one of the founding members of the volunteer health clinic that occurs monthly in our community. She serves in a Board officer position for Civic Partnership and key coordinator on the Rails to Trails event. She is an active member of the Hazleton Rotary Club, American Cancer Society's Season of Hope Gala and a United Way of Greater Hazleton Allocation volunteer. Jane is also a Parish Pastoral Council Member at Holy Rosary Church.
Jane was recognized in 2011 as NEPA Business Journal's Top 25 Women in Business. She is also an alumni of the Leadership Hazleton program. Jane graduated from Central Pennsylvania College in 1999 and continues her professional development through various seminars in leadership, board governance and social media, to name a few. She lives in Hazleton with her husband, Gary.
The Athena Award, presented each year to a Hazleton Area businesswoman "for outstanding professional achievement," will be presented at the 124th Annual Meeting of the Greater Hazleton Chamber of Commerce. The dinner meeting will take place on Thursday, May 19 at Sand Springs.
Ms. Danish joins a long list of distinguished women who have won the Athena Award in its 30-year history. Past winners include: 1986, Lillian Paternoster; 1987, Lorraine Piehota; 1988; Donna Jean Yannuzzi; 1989, Mary Bollman; 1990, Patricia Werner-Savage; 1991, Theresa Raffety; 1992, Martha Herron; 1994, Jo-Ann Yannuzzi; 1996, Ruth Wimsat; 1997, Molly Blasko; 1998, Bettie Sitoski; 1999, Linda Schreiber; 2000, Cathy Gallagher; 2001, Mary Jane Saras; 2002, Atty. Sharon Evans; 2003, Dr. Geraldine Shepperson; 2004, Mary R. Malone; 2005, Atty. Elizabeth Maguschak; 2006, Jennifer Sloot; 2007, Paula Sagan Hahn; 2008, Lonnie Polli; 2009, Terry Moran Bauder; 2010, Dr. Deb Carr; 2011, Nancy Stasko; 2012, Jeannine Lesante Mazurkiwecz; 2013, Kathleen Benyo; 2014, Donna Palermo and 2015, Elaine Judd. There were no winners in 1993 and 1995.
To make a reservation to attend the Chamber's Annual Meeting, contact the Chamber office at 570-455-1509 or via email at .
Pictured in the photo from left is EJ Butkiewicz, Jr. Berger Family Dealerships, Athena Award Sponsor; Jane Danish, 2016 Athena Recipient and Jeff Berger, Berger Family Dealerships, Athena Award Sponsor.