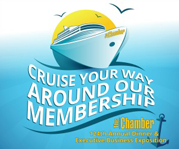 Invitations have been mailed for the 124th Annual Dinner & Executive Business Exposition of the Greater Hazleton Chamber of Commerce. This is the Chamber's largest event of the year with over 300 business people in attendance. The event will take place on Thursday, May 19th, 2016, at a new location for 2016, Sand Springs Country Club in Drums beginning at 5 pm. The theme for this year event is Cruise Your Way Around Our Membership.
The evening will begin with the Executive Business Exposition which highlights businesses in the Greater Hazleton Area and will take place from 5 pm to 7 pm. Each year, since its inception in 1992, the Executive Business Expo has attracted sell-out crowds of participating firms. The Expo takes place in conjunction with the Chamber's pre-dinner reception and provides participants and attendees with an informal way to combine the social benefits of the evening, with the opportunity to see some of the goods and services available through local business. During this portion of the event attendees will also enjoy event themed hors d' oeuvres, a cash bar with drink specials and a photo booth featuring pictures with our surprise "special guest", courtesy of Skuba Entertainment. In addition, when each attendee visits every "Port of Call Booth" and returns their completed "boarding pass", they will have a chance to win a $100 cash prize.
For those businesses interested in taking part in the Executive Business Exposition, 38 spaces are available and are on a first-come, first-served basis. Cost for a booth space is $250 or upgrade to a "Port of Call Booth" for $350 and receive guaranteed expo traffic, a list of event attendees with contact information, and business featured on the "Boarding Pass" provided to every attendee and additional scrolling advertising throughout the expo. Limited Port of Call Booth spaces are available.
In addition an Expo Decorating Contest will take place. This is optional for your business to take part in and no additional cost is associated. For businesses who choose to participate, 1st, 2nd & 3rd place winners will be awarded, by our event committee, to those who integrate our event theme the best. Winners will be announced at the event and featured in our Chamber newsletter and after event email update.
The dinner program will immediately follow the expo and will provide an opportunity for local business officials and their guests to combine business with pleasure while hearing about the progress of the Chamber during the past year and mixing with the leaders of the Hazleton Area business community. Every guest will receive a special favor. The program will include an unveiling of the 2016/2017 Greater Hazleton Image Magazine, incoming and outgoing Chair of the Board and Board of Directors will be recognized and the Athena Business Woman of the Year will be honored. Cost for a dinner reservation is $70 per person.
Event sponsors include: premiere event sponsor, PPL; Athena "Business Woman" of the Year sponsor, Berger Family Dealerships; invitation sponsor, OnDemand Energy/ChamberChoice; hors d' oeuvre sponsor, DBi Services, LLc; boarding pass sponsor, UGI Utilities; favor sponsor, Arc Electric; registration area sponsor, Wagner & John, LLC and in-kind sponsors, van Hoekelen Greenhouses Inc., Skuba Entertainment and Globe Printing. A centerpiece sponsor for $500 and $150 program ad sponsors are still available.
For complete details, if your business is interested in participating in the Executive Business Exposition or a program ad sponsor or if you have not received an invitation for the dinner portion of the event and you would like to, please visit our online calendar on our website at hazletonchamber.org or contact Leann Fallabel, VP of Marketing at 455.1509 or .