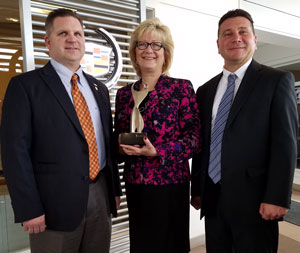 This year's Chamber Athena Award will be presented to the "Business Woman of the Year" in the Greater Hazleton area at the Chamber's 125th Annual Meeting on May 18.
The selection will be based on professional competency, achievement and dedication, and is open only to members of the Greater Hazleton Chamber of Commerce. The Chamber Athena Award is not a civic achievement award, but a meaningful effort to recognize women as an integral part of the Greater Hazleton workplace. We need your help to identify candidates for this award.
If you know of someone you believe would be a deserving recipient of the Chamber Athena Award, please complete the brief form below and return it to us as soon as possible. We will contact that individual and gather the information necessary to complete an official nomination form. The process is easy; all you have to do is let
us know of someone you believe is deserving.
The deadline for nomination recommendations is Friday, March 24. Deadline to receive completed applications is Friday, April 14.
Please complete the Chamber Athena Award nomination form and return to:
Greater Hazleton Chamber of Commerce
20 W. Broad Street
Hazleton PA 18201
For more information, call the Chamber office at 570-455-1509 or email Chamber President Mary Malone at